For the launch of the MERIDIANS collection, Brook collaborated with In Favor Of / Jill Spector, an artist who lives and works in Los Angeles. With over 20 years of experience, Jill specializes in textile construction, costume design and fine art fabrication.
Working together, Brook and Jill used hand-screened fabrics from the MERIDIANS collection to create a performance art piece set in nature. Local dancers dressed in caftans and costumes hand-sewn from BPT fabrics.
Inspired by the concept of MERIDIANS—meaning either a circle of global longitudinal lines or a set of pathways in the body along which energy is said to flow—the fabrics draw parallels between the mapping of the body and the mapping of the earth. Worn within forests and aside lakes, the textiles take on new life.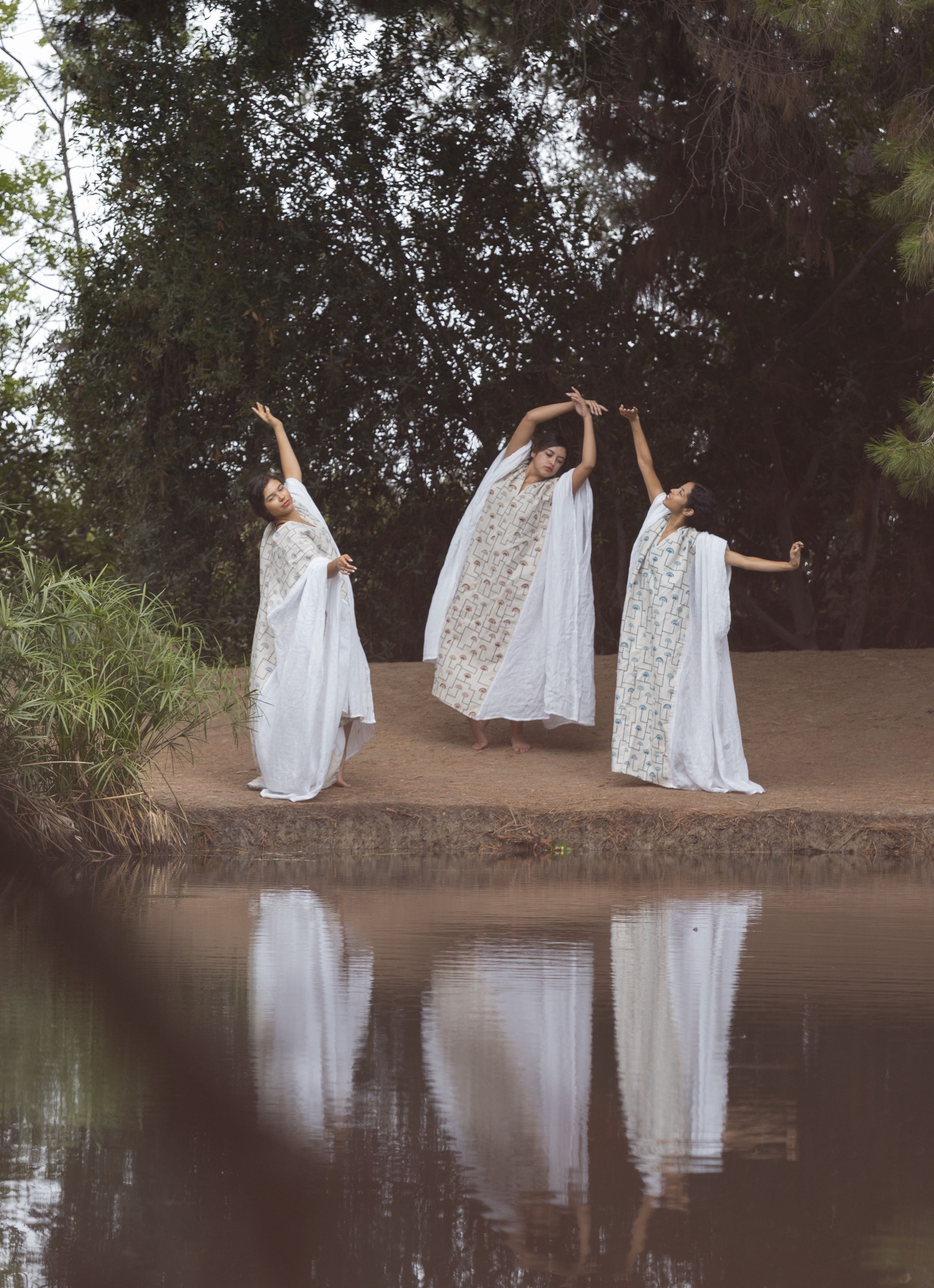 Dressed in column-like caftans, the dancers evoke the trees behind them, moving slowly with the languid rhythm of nature.
The caftan's architectural form reinforces the pattern's geometry, while the fluid dancers' movements mimic the loose brushstrokes that grow and fan from the cloth.
Inspired by the performance artist Sylvia Palacios Whitman's "Passing Through" (1977) as well as Bauhaus photography, these large-scale hands bring humor and history into the landscape.
The hands are constructed from two BPT fabrics: SETO and ABUJA. Named for the inland sea that connects the islands of Japan, SETO is a series of intersections. East meets west, north meets south, ancient meets modern.
Hand-screened in two shades of deep teal on Belgian linen, the hand-blocked grid holds open and opaque forms in balance.
ABUJA is an exploration of color, cut, and repetition. Named for one of West Africa's busiest cultural hubs, the rhythmic pattern draws on a mix of West African and mid-century modern motifs.
In this piece, the pole is an extension of the dancer's body. It both limits and amplifies movement. The fabric, hung in swathes that bend and flutter in the wind, dances with both the body and the space surrounding it. The swathes are constructed from two BPT fabrics: SETO and CUSCO. Hand-screened by Los Angeles printers, SETO in this context connects the work of local artists in a network of co-creation.
CUSCO charts a course from ancient Inca textiles and Greek keys to themodern day painting of Cuban-American artist Carmen Herrera. Positive and negative space bring one another into balance, creating a series of geometric stripes. On multiple levels, this collaboration extends beyond BPT and Jill Spector, reaching across cities, cultures and disciplines.
One of a kind original artwork by Brook Perdigon.
In July 2016, Brook partnered with Tarp project space and transformed a deserted dry, in-ground pool into a vibrant and immersive, aqua-blue performance space. Taking her much-loved, small scale patterns massive, she hand painted a full-scale installation of one of her most popular patterns, ITURI.
Hosted by Bret Nicely and Jill Spector, Tarp is a venue for artists to present new projects, in and around an empty swimming pool. More info here.